After both having separate careers, Burt Adams and Christy Ouei wanted something they could do together and for that something to have a purpose.  Late in the summer of 2018, they found a location near SAU that they thought fit their vision, and after a short negotiation, it was theirs.
The whole year prior, they had been trying to come up with "what Magnolia needed."  Finally, it was decided that craft beer, pizza, wings, coffee, small-batch ice cream from Arkansas, live events and music IS just what the town needed.
Any given Wednesday night sees the placed packed. Packed… on a Wednesday. So maybe they are on the right track.  Throw in their desire to be environmentally sustainable, and that their employees are also the recipient of an amazing experience so they can pass it onto customers, and it seems like a winning combination.
Their new restaurant, Lefty's On The Square is projected to open in late 2023 in downtown Magnolia.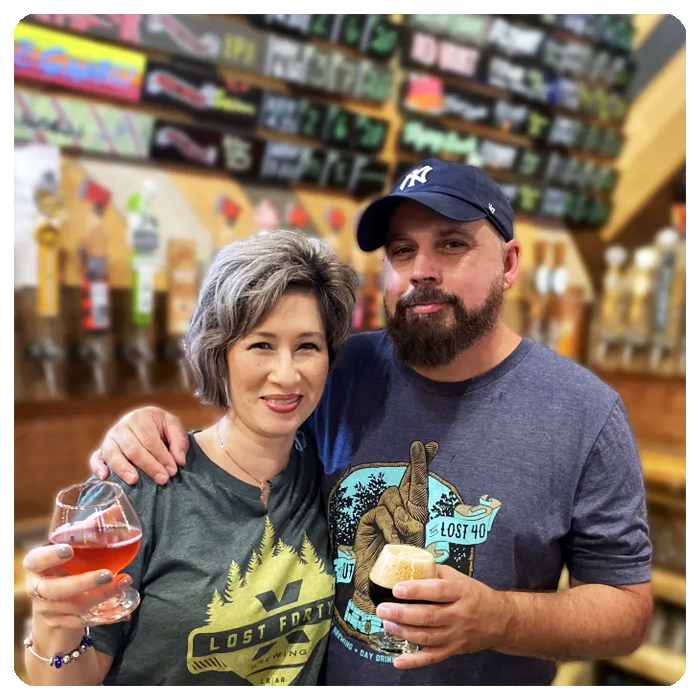 Christy Ouei & Burt Adams
MuleKick was originally built to be a quiet coffee shop that had only 12 parking spots.
Yeah, we know the bathroom doors are heavy. But if the light above the door is on, it's occupied!
The Arkansas Times awarded MuleKick with "Best Outdoor Dining" in Arkansas in 2021
We only sell craft beer! 30 taps to be exact. Most of which comes from breweries in Arkansas!
If you're in the building and hear "Purple Rain" by Prince, ya might wanna see the bartender.
All of the unique, trademark light fixtures were made from scratch by the owner, Burt!